The Picture In The Banner Of A Connecticut Law Blog
It's hard to blog in the summer. Between yardwork, picnics, and the Red Sox, I don't have as much time to write.
In the winter, it's easy to sit up in my office with a cup of coffee, watch the snow fall and write a few posts on a Sunday afternoon.
So today, I'm digging deep in the archives of this blog. All the way back to my second post and a time when I had two people reading my blog. So Mom and Dad, you can stop reading here.
This entry was from December 27, 2007.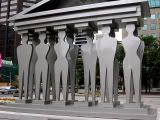 I took this picture in Toronto this summer of this statue outside a Canadian courthouse.
The statue has place for a missing juror – a not so subtle reminder that our system of justice is human. Courtesy of my talented webmaster, Tim,  an edited version of this picture will serve as a banner for this site.