A Foul Ball, The San Diego Chicken, and a Lawsuit…
It seems that courts in the Nutmeg State aren't alone in their struggle to define the liability of stadium operators for damages caused by foul balls.
Earlier this year, I wrote about foul ball liability (He's Out Part 1 and He's Out Part 2) in Connecticut.
What do you get when you cross a AA baseball team (the Dayton Dragons), the San Diego Chicken, and a spectator injured by a foul ball? A lawsuit of course.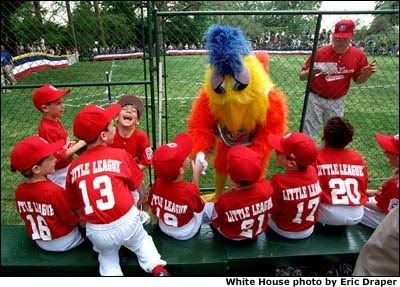 Enough with the bad jokes.
Fellow blogger, Teri Rasmussen of Ohio Practical Business Law Counsel writes in "Spring Has Sprung – Baseball's Back!!!! Watch for Zooming Balls about an Ohio court which held that a stadium operator was not liable for injuries to a spectator who was struck by a baseball while she was watching the San Diego chicken.  Harting v. Dayton Dragons Professional Baseball Club.
The Ohio Court reasoned that mascots are common at minor league baseball games, and that one would reasonably expect to observe a mascot perform during a game, therefore, the fact that a spectator was struck while watching the mascot did not negate her duty to pay attention to the game. Ouch.
So to get the Ohio Court's reasoning straight: the Plaintiff could not recover when she was distracted by a mascot which was on the field to draw her attention away from the game when the stadium operator knew or should have known that a foul ball could find its way into the stands during the mascot's performance.
This is a very pro defendant ruling. Has the Court seen how distracting the Chicken can be? Clearly he shouldn't be performing during innings. If I were arguing the case this may be Exhibit A.
I think a court in Connecticut could disagree under these circumstances and find in favor of the plaintiff if a team went out of their way to distract fans by having a mascot put on a show during the game.
To close, I have two points:
1. When you go to a baseball game  – watch the game if for no other reason than self preservation.
2. Click on this link. It seems the Cincinnatti Reds took justice into their own hands for the Chicken distracting a fan of their minor league team.